Featured Bloggers: Chris Stang and Andrew Steinthal of Immaculate Infatuation

With so many tempting restaurants flooding the streets of New York City, it's hard to know the best places to spend your time and money. Wouldn't it be great to have a couple of local friends providing reliable recommendations? Well, make Chris Stang and Andrew Steinthal your new best friends.  In addition to working in the music industry, Stang and Steinthal take the guessing game out of New York dining on Immaculate Infatuation. These two can break down the best places for you based on your event type, neighborhood, cuisine and venue. They also highlight five notable culinary personalities each Friday with their Friday Fives feature.  Make sure to check out their site, Facebook, Youtube, Flickr and Twitter to prep you for your next New York food excursion.
Q: What was the catalyst that pushed you two to start blogging?
A: The nature of the music business means we're out all the time seeing shows, and that also means a lot of dinners beforehand.  After a while, you become the one in your circle who knows where to eat, and suddenly you're fielding phone calls every time one of your friends wants to impress a date. We also noticed that a lot of our friends and peers who love to eat out didn't have a go-to resource for information on restaurants in New York. So we started one.
Q: How do you think your site stands out amongst other food blogs?

A: It's entertaining, yet at the same time very useful. There aren't many other places that you can go and find a restaurant in your neighborhood that's "Perfect For: Day Drinking." It's also about consistency. We review 3-4 restaurants a week, and have a celebrity Friday Fives feature each Friday. Our readers know what to expect and check back daily.
Q: What do your family and friends think of your site?
A: They love it and are our biggest champions. The site is as much a representation of our friends and family as it is us. We even created a video series around Steinthal's Grandma talking restaurants.
Q: On average, how much time do you spend working on your blog?
A: A lot. The work is endless. We rise early and stay up late.
Q: How frequently do you try out new restaurants to review, and how do you choose them?
A: We're out eating at restaurants about three times a week. We obviously stay on top of all the big openings and what people are talking about, but we also take advice from our peers and readers all the time. If someone on Twitter tells us we need to check out a restaurant, you best believe we do it.
Q: How many times have you redesigned your blog since it started?
A: We've had one redesign so far, to keep up with traffic growth and make the site more useful to readers in terms of finding restaurants by multiple criteria.  But we were also mindful to make sure the site had the same feeling as it did the day we put it online.
Q: How much do you correspond one-on-one with readers?
A: We put a lot of effort into the relationships we have with our readers, and that's a key reason to why we've been successful. Immaculate Infatuation isn't about us, it's about the people who read it every day. We have made some great new friends of people who are passionate about our site, and that's amazing.
Q: What unexpected joys and pains have you encountered since starting Immaculate Infatuation?
A: Joys- The random emails we get from people telling us that they really enjoy what we're doing. Also, watching the site grow has been a pretty gratifying experience.
Pains- Paying for all these meals. Eating out isn't cheap and our bank accounts are not happy with us.
Q: Have your day jobs had any affect on your site?
A: For sure. In our day jobs, we work in marketing and publicity. There's no doubt that some of those skills have helped us move this site along. Also, the support we get from our colleagues has been incredible. They've embraced Immaculate Infatuation from the get-go, and we couldn't do this without that support.
Q: If you had to choose where to get your last meal in New York, where would you go?
A: Steinthal – I'm going to Freemans. I've got a lot of history there and a meal consisting of their spinach artichoke dip and filet mignon sets me straight every time.
Stang – I am headed to 
Blue Ribbon Brasserie
, and I am going to sit there eating oysters and drinking wine until they throw me out.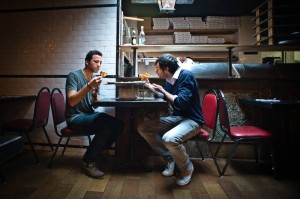 ADVERTISERS! Want to target Immaculate Infatuation's audience? Use offer code "Blogads50" until June 21, 2011, to receive 50% off of your ad purchases!
Tags: interview
Facebook comments