Lamebook Makes TIME's "50 Best Websites 2012″ List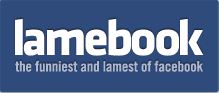 TIME curated a list of the top 50 Web sites that the "editors find to be useful, entertaining, innovative or just plain addictive,"  with Blogads' partner Lamebook making the cut!
Lamebook.com is a popular and consistently hilarious resource to view the latest ridiculous and lame posts that people find worth sharing on Facebook. TIME described Lamebook as being "less about Facebook and more about human nature — whether you're into social networking or not, there's something for everyone here."
We here at Blogads are thrilled for Lamebook's recognition, and we highly suggest for anyone interested in the absurdity of human nature to check it out. Make sure to also check out the other sites that TIME highlights here.
Tags: Homepage
Facebook comments