Poll conflicts, George McGovern, Foreign Policy and more – Barometer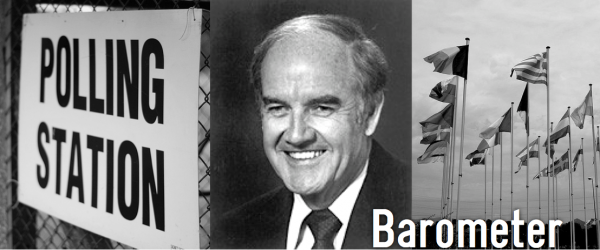 Welcome to the tenth post in our Barometer series, helping you gauge the atmosphere in the political blogosphere just 2 weeks before election day.
Electoral Vote – Dueling Polls are in Deep Conflict
Gallup's election poll shows a much wider margin than the Wall Street Journal and others- this blog's map algorithm will show you averages by state.
Althouse – George McGovern has Died
The '72 Democratic presidential nominee, North Dakota representative and senator died this weekend at the age of 90.
Balloon Juice – Tonight's Debate
Foreign policy takes center stage in tonight's third and final presidential debate. Balloon Juice's live blog begins at 8:30, with the main event at 9.

Patterico's Pontifications – Topics for Tonight's Foreign Policy Debate
An outline of opportunities Governor Romney (and potential landmines for President Obama).
Photos from: Martin Bamford, silbigread, borkur.net

Facebook comments