Voting Pressure, Hurricane Sandy, the Homosexual Agenda and more – Barometer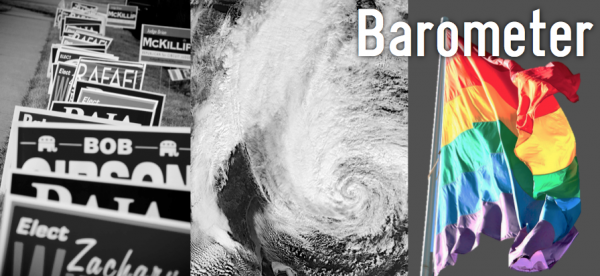 Welcome to the eleventh post in our Barometer series, helping you gauge the atmosphere in the political blogosphere just 1 week before election day.
The Volokh Conspiracy – Employers' Urging Employees to Vote a Particular Way, and Warning of Dangers if a Particular Candidate is Elected
You can't be fired based on your vote, but may your employer try to persuade you to vote a certain way? Volokh takes a legal look.
Think Progress – How House Republicans Would Make it Harder to Provide Hurricane Relief
In the wake of Hurricane Sandy, Aviva Shen contemplates Republican-proposed spending cuts for emergencies and privatizing FEMA.
Outside the Beltway- The Race Might Not Be Over on November 6th
Recounts, provisional ballots and an electoral-college tie threaten to drag out final election results.

The New Civil Rights Movement – Hurricane Sandy: Minister Blames Gays and 'Pro-Homosexual' Romney and Obama
Says Christian minister John P. McTernan: God is systematically destroying America due to the candidates' homosexual agenda.
Photos from: seanmcmenemy, NASA Goddard Photo and Video, torbakhopper

Facebook comments